Holašovice, survivor of plague, wars and neglect

The history of Holašovice has been one filled with continual battles against many odds, both man-made and natural. The area was first mentioned in the late 13th century under the reign of King Wenceslaus II, although settlements and people had long occupied the area for centuries before. From that time on, its population and buildings rose and fell drastically, even if the actual numbers were quite small.
The Bubonic Plague nearly completely destroyed the town and killed all but two of the residents in the 1520s. There is still a column which stands above the graves of those who died, erected in their memory.
Over the following three centuries the number of citizens grew, most of them German speaking. The highest reported population was 164, at the turn of the 19th century.
Following World War II, Germans were forced to leave the borders of the Czech Republic and the village was completely deserted and desolate. It continued like this for 50 years until the Velvet Revolution brought new energy and new desire to restore the village and its many historical buildings, which had maintained their traditional South Bohemian Folk Baroque style for which it is so famous today.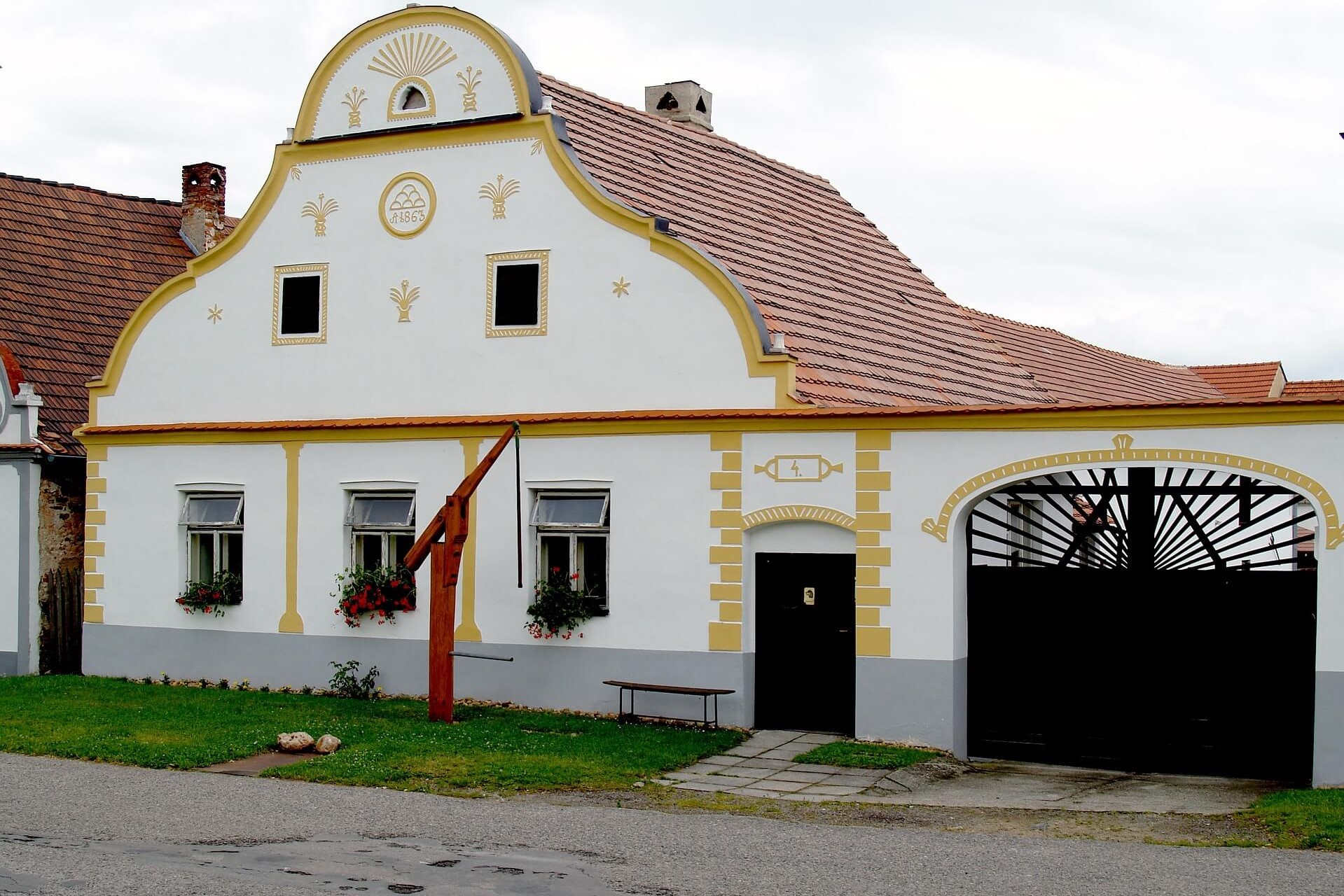 Rural Baroque Style

Also known as South Bohemian Folk Baroque, this style appeared in the early 1800's. It is so unique in its form as it uses many common baroque elements but in slightly unusual and uncustomary ways. Baroque is known for its grandiose and awe-inspiring adornments and structures, mostly in churches, palaces and castles throughout Europe in the 17th Century.
In Holašovice however, these same themes have been applied to the houses, farmsteads, granaries, public houses, workshops and a school, leaving them all extremely ornate and distinct from a typical Czech village. The buildings shine and impress visitors with ornamental gable walls, relief ornaments, sun motifs, and stucco ornamentation to mention a few.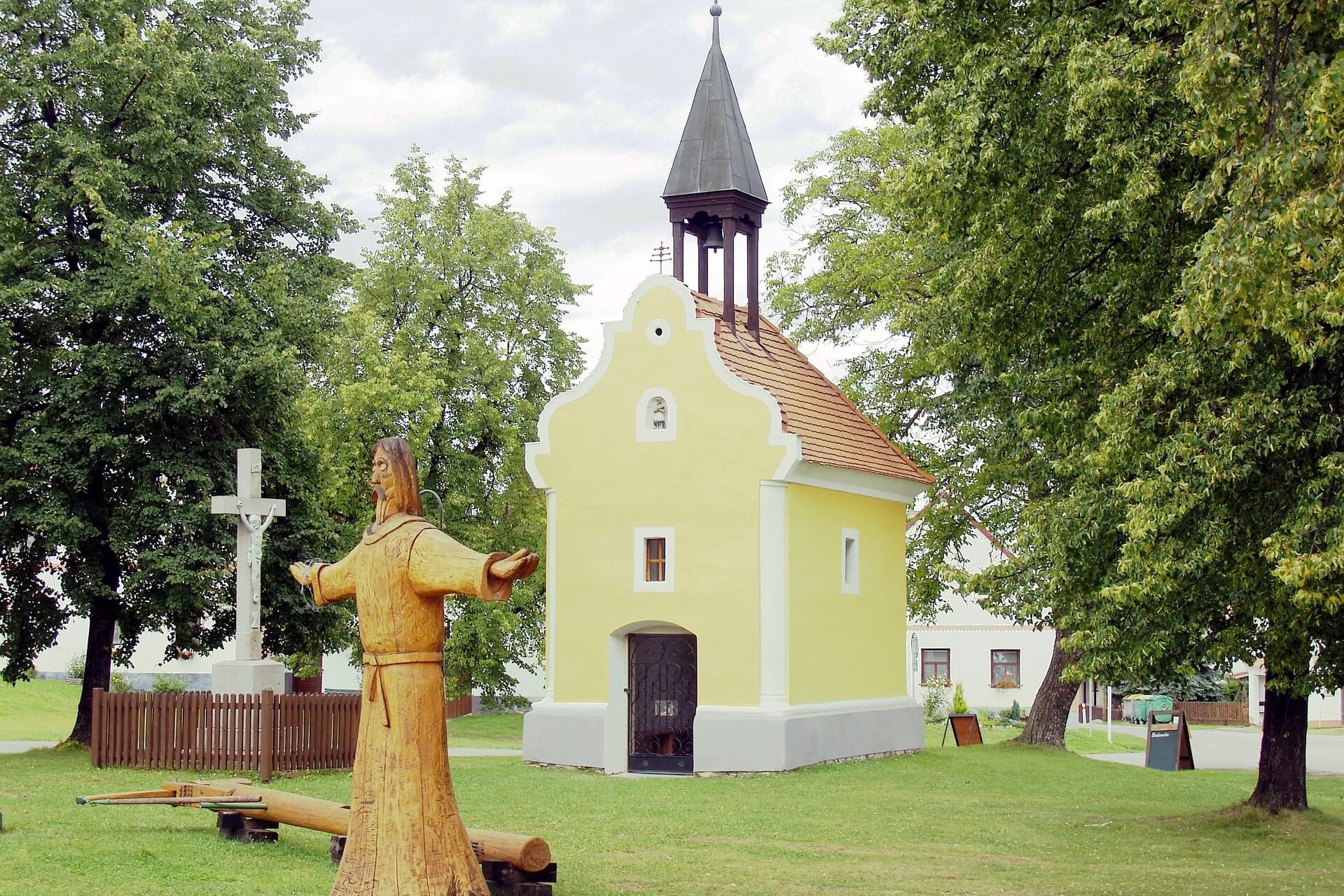 Holašovice Survives till Today

Despite the best efforts of wars, plagues and abandonment Holašovice has returned to its peak number of inhabitants, 140 villagers. The traditional buildings remain as an open air museum, allowing visitors to pass around the large town green in which there is a small pond. All of the 23 historical buildings face the town green, which makes it easy for visitors to wander about from farmstead to blacksmith shop to chapel, admiring the unique architecture style, ornate facades decorated with flowers, suns, and the pastel colors that all of the buildings are painted in.
The town itself is quaint and slow-paced and a wonderful escape from the more traditional tourist paths and sites.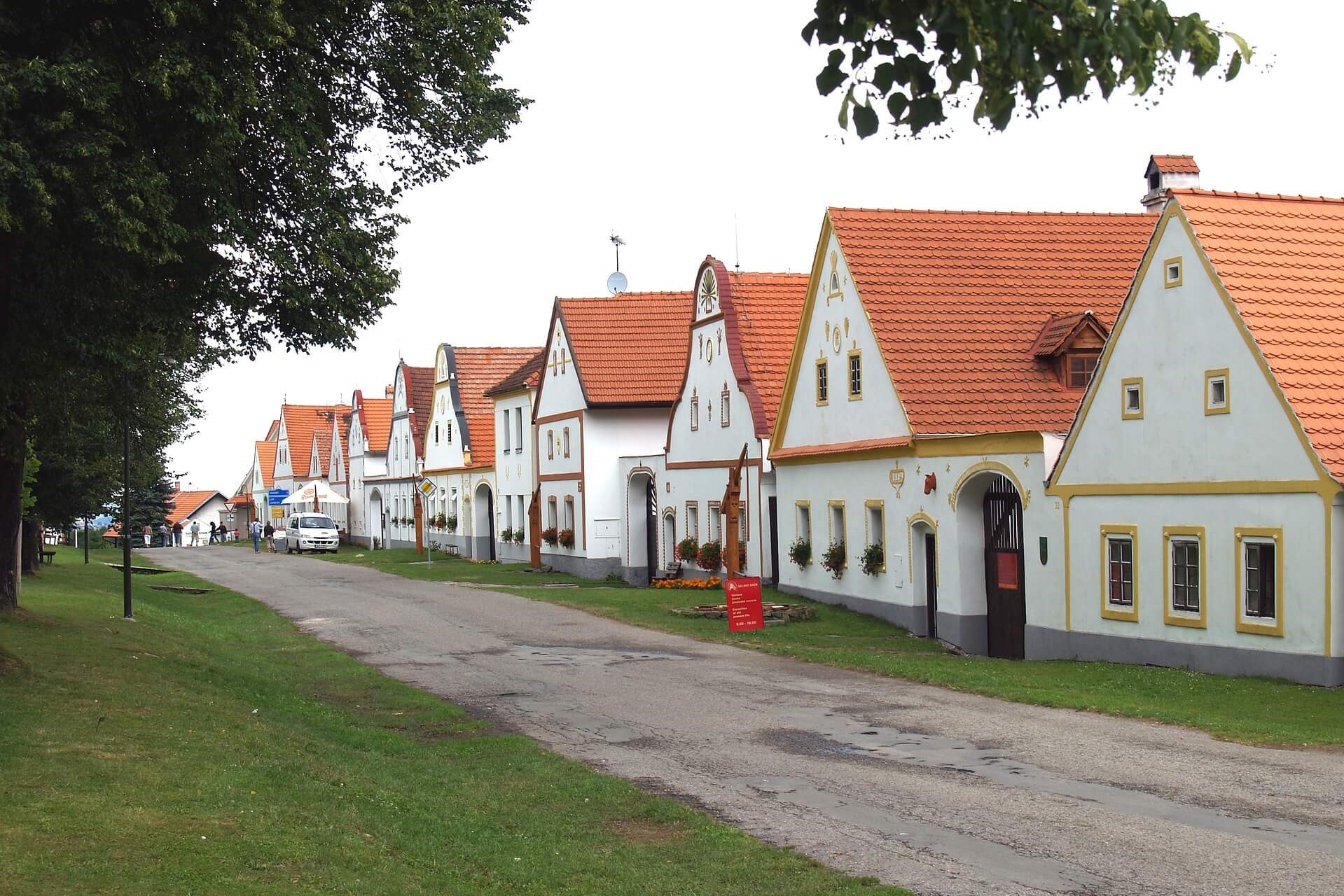 How to get to Holašovice

Holašovice can be reached by one of many options and from several points. From Prague it is a 2-hour drive, covering 150 kilometers (95 miles) on Highway D4. This is of course the most direct and quickest way possible.
There are also various forms of public transportation that can get you there too. Trains run from Prague hourly, taking slightly over 2.25 hours. There is also an option to take a bus from Prague, leaving Prague every 3 hours and lasting about 2.5 hours in total.
If coming from a different city, there are still more options. From České Budějovice, the easiest, simplest and most efficient way to arrive to Holašovice is by car or taxi as it is only a 20-minute drive. The same is true if coming from Český Krumlov, which is less than 30 kilometers (18 miles) away.
Check out these
Awesome Tours The top beer tour experience where you will visit 4 our our best Prague breweries: sophisticated beer experience at Strahov brewery, live beer making at New Town brewery, historical and old fun pub and brewery at U Fleků where we enjoy another great beer tasting. Then we can not miss the historical Brewery U Fleků (with traditional Czech dinner), and the best drafted Pilsner at U Zlatého tygra. All uniquely tailored with our professional local guide. See the magic of South Bohemia, from royal castles and towers to small cobblestone streets and charming shops and restaurants. This Český Krumlov day tour will leave you spellbound and captivated. Český Krumlov is the most popular day trip from Prague and when you go you'll know why. It's as if you have stepped into the pages of a fairy tale and at any moment you could come upon a poor maiden, ready to be saved by a noble prince who will whisk her away to the castle on the cliff, overlooking the red-roof lined town. The Vltava River (the same which eventually flows north to Prague), flows through the city at a melodic pace and over several small weirs and has carved the town into a peculiar shape which almost resembles a puzzle piece.